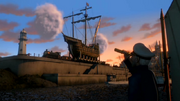 Arlesburgh Harbour is a large harbour in Arlesburgh, which is served by both the North Western and Arlesdale Railways, the former connecting to the harbour via the Little Western. The harbour was first opened in 1967, when the North Western Railway built the Little Western to serve the harbour.
Duck and Percy both worked at the harbour regularly, shunting trains for the other engines. A regatta was held here.
Later, the line running through the harbour was extended to run up to Harwick. After Thomas discovered a pirate ship in a cavern, the ship was restored and taken to Arlesburgh Harbour, where it would be put on display to the public. Thomas also managed to stop Sailor John from escaping with the treasure here, and when the Harwick Branch Line was officially opened, the engines went through the harbour while the treasure was recovered from the bottom of the sea.
Appearances
Arlesburgh Harbour was first introduced in the third season as a large and expansive harbour, which was also used to represent Brendam Docks in certain episodes. The harbour had several large cranes, a small, one track station, and an engine shed.
In Sodor's Legend of the Lost Treasure, another area of Arlesburgh Harbour, located much closer to the town, was rendered in full CGI. This area of the harbour was significantly smaller compared to the harbour in the third season, and was simply a dock with a lighthouse and a few lines running over it. Captain Calles' old ship is displayed here.