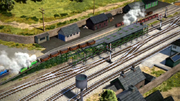 Arlesburgh Junction is the top station on the Little Western, the terminal of the Arlesdale Railway, and the former harbour of the Mid Sodor Railway.
History and Working
The station was first opened to serve the nearby harbour in 1880. The North Western Railway extended the line to Arlesburgh in 1916, but after the Mid Sodor Railway was closed in 1947, both the station of Arlesburgh West and the branch line closed too. In 1967, the station was reopened, and since then, the ballast from the mines on the Arlesdale Railway has been brought down to the station for the standard gauge railway.
The station yard has an engine sheds for the Little Western engines, a turntable for Donald and Douglas, and a ballast chute, where the ballast from the small engines' trucks was poured into the standard gauge trucks below. The Arlesdale Railway also has their own sheds, turntable and yard at the station.
Appearances
In the television series, Arlesburgh West first appeared in full CGI in Sodor's Legend of the Lost Treasure, and was renamed to Arlesburgh Junction. The junction had some slight changes to the original location in the Railway Series, as the standard gauge engine shed, turntable and station were not included. Both the Little Western and Arlesdale lines run through a forest just outside the junction.
In the twentieth season, a footbridge was added for the standard gauge and minimum gauge platforms and a shed for the Arlesdale Railway engines. The station was referred to as Arlesburgh West again as well.
In Thomas' Sodor Adventures, the junction appears in its television series design with both Little Western and Arlesdale lines running through a forest and with the footbridge that was added for the standard gauge and minimum gauge platforms. However, unlike the television series. The sheds and station are included, but the turntable is still not included. Duck, Donald, Douglas, Oliver and Toad generally sleep here.