Obi-Wan Finale - The Loop
Play Sound
"Well, go on. Aren't you going to impress us with your thoughts after all?"
— Mike, Jock the New Engine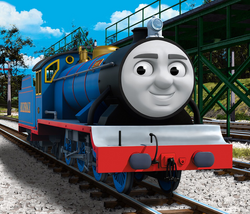 Bert
Designer: Sir Arthur Heywood
Builder: Duffield Bank
Built: 1894
Gauge: 15 inch
Configuration: 0-8-2, originally 0-8-0T
Arrived on Sodor: 1967
Bert is the quietest of the Arlesdale Railway engines.
Bio
Bert worked on an unnamed line in England until 1967, at which time it closed down and he, Rex and Mike were sent to Sodor to work the Arlesdale Railway. Some time after his arrival, Bert took offence when the Reverend W. Awdry and the Reverend Teddy Boston accidentally sprayed him with mud while passing him in their car, and in retaliation Bert drenched the Reverend Teddy Boston with water when he took a ride in Bert's cab. However, both parties made up and as a result, Bert was featured in the Reverend W. Awdry's next book, Small Railway Engines.
Persona
Bert is the quietest of the Arlesdale Railway engines. He is the oldest out of the original three and appears to be very easy going and friendly. One thing Bert doesn't like, however, is the idea that bigger engines (and some people) might look down on the little engines just because they're small. Bert usually gets on with his jobs without complaining and doesn't mind what kind of work he does as long as he's treated with respect.
Livery
Bert is painted NWR blue with red-and-yellow lining. He has a brass dome, blue wheels, red nameplates with yellow writing mounted each side of his boiler and "Arlesdale" written on his tender in yellow.
Appearances
Season 3 -

The World's Strongest Small Engine

Season 4 -

It's Not Easy Being Green

and

Duncan and Mike

Season 5 -

Bert Tries His Best

,

Culdee and the Enthusiasts

(cameo), and

Traction Troubles

Season 6 -

I'm the Leader

Season 7 -

Love for the Sea

,

Salty and the Small Engines

, and

The Blaze
He is likely to appear in the eighth season.
Specials:
Trivia
Bert uses Mighty's original whistle sound at a half-step higher in pitch.
Bert's rebuilt form has never been featured in either the Railway Series or television series.
In Sticking Power, Bert is said to be younger than Rex and Mike. However, Bert's basis was built long before the other two. Bert has also been stated to be the youngest on the official website. His own build date is currently unknown since there is no official evidence to state his actual build date.
From Jock the New Engine onwards in the Railway Series, as well as in the TV series, Bert is depicted with wheels outside his frames, contrary to his basis and his previous appearances. His valve gear was also changed.
DonaldDouglasandOliver11 stated that Bert is his favorite Arlesdale Railway engine.