"His name's really Bertram, but we call him the "Old Warrior", because he's so brave."
— Bertram, Toby's Discovery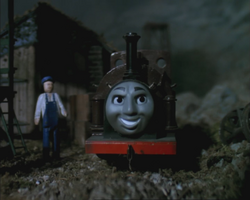 Bertram
Builder: Boston Lodge
Built: 1879
Gauge: 2ft 3in
Configuration: 0-4-0ST+T
Bertram is an old narrow gauge engine who works in the mine.
Bio
Bertram used to work in the mines with the other "little engines" in a remote part of Sodor. His fate was unknown to many after the mine's closure, and it was assumed he was left to rust. He remained at the mine until it was rediscovered years later.
Over time, he became legendary; many knowing of the "old warrior ghost" haunting the mine. However, Toby found him whilst watching over the quarry one night, and has since befriended him. He now works at the restored mines, taking passengers to the fairground within.
Persona
Bertram is an old engine who works at the restored mine taking passengers to the fairground that is at the mine. He is considered incredibly brave. When Toby first saw him, he thought Bertram was a ghost. Since they have met, Bertram and Toby have become good friends. If there are any ghosts there, they certainly make the place seem very happy.
Livery
Bertram is painted dark brown with red lining and has two brown plaques on either side of his saddletank with his name written in gold.
Appearances
He is likely to appear in the eighth season.
Specials:
Community content is available under
CC-BY-SA
unless otherwise noted.