"Hey you two. This new Diesel's got a toothache. Good luck!"
— Percy, Double Teething Troubles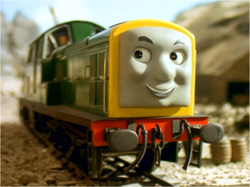 Derek
Class: BR Class 17
Designer: Clayton Equipment Company and Beyer, Peacock & Co.
Builder: Clayton Equipment Company or Beyer, Peacock & Co.
Built: sometime between 1962 and 1965
Configuration: Bo-Bo
Top Speed: 60 mph
Derek is a diesel who is known for his initial "teething" troubles.
Bio
Derek was sent to help Bill and Ben out at the China Clay Works, but was known for his "teething troubles". This led him to overheat whilst pulling a stone train with the twins. After that, he was sent back to the Works.
Persona
Derek is a jolly, enthusiastic Diesel engine, who was brought in to assist Bill, Ben, and BoCo at the China Clay quarry. Unfortunately, due to his engine, he is highly prone to teething troubles, namely overheating and suffering frequent breakdowns, for which he is apologetic for the inconvenience. As a result, he spends many a day having his engine tended to. But Derek is a likable chap and even Bill and Ben decided that they liked him due to his friendly nature. Derek has an infectious charisma, is keen to help anyone around him, and has a passion for sorting things out in a jiffy - if his cooling system lets him.
Livery
Derek is painted in the British Railway's green livery with yellow warning panels.
Appearances
Season 2 - Fergus and the Electric Engines, Small Engines, That's My Special, and Flying Scotsman Departs (cameo)
Season 3 - CoBo, Bill, Ben and Derek, Disappearing Diesels (cameo), and Cold Crews (does not speak)
Season 4 - Stories of Digging, Neville at the Scrapyard (cameo), and George and Buster
Season 5 - Henry to the Rescue (cameo), The Big City Engine, Silver Steam (cameo), and Culdee and the Enthusiasts
Specials:
He is likely to appear in Sodor and the Mystery of Christmas.
Trivia
Starting from season 14, Derek's horn was reused for Salty. Before this, Derek's horn was also used for the foghorn.
Derek was the first non-Awdry standard gauge diesel engine to be introduced into the television series.
Originally, Derek was going to be named "Paxman", but it was changed for fear it would offend the Paxman brand of Diesels, or refer to celebrity Jeremy Paxman.
Derek's problems were undoubtedly inspired by his basis, as the twin Paxman engines of the real Class 17s were unreliable, being prone to problems with the camshaft, cylinder head, and other areas.
Community content is available under
CC-BY-SA
unless otherwise noted.