"Donald and Douglas are twins, they arrived from Scotland to help the Fat Controller, but can often cause confusion.
The Fat Controller has given them numbers.
Donald, 9 and Douglas, 10, but he is planning of sending one engine home."
— The Narrator, Donald and Douglas the Scottish Twins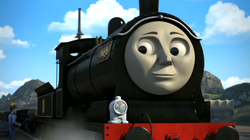 Donald and Douglas
Numbers: 9 and 10, formerly 57646 and 57647
Built: 1899
Class: CR 812 0-6-0
Designer: John F. McIntosh
Builder: St. Rollox Works
Configurations: 0-6-0
Arrived on Sodor: 1959
Donald and Douglas (originally known by their numbers, 57646 and 57647, respectively) are twin Scottish mixed-traffic engines.
Persona
Donald and Douglas are cheery, friendly, and helpful. They like jokes too. They do however get the job done in the end and are a valuable assit to the Fat Controller's railway.
Livery
Donald and Douglas are painted BR black and have remained in this livery ever since.
Appearances
Specials:
Trivia
Their original numbers are an in-joke; the BR numbers only went up to 57645.
Community content is available under
CC-BY-SA
unless otherwise noted.