"Donald and Douglas are twins, they arrived from Scotland to help the Fat Controller, but can often cause confusion.
The Fat Controller has given them numbers.
Donald, 9 and Douglas, 10, but he is planning of sending one engine home."
— The Narrator, Donald and Douglas the Scottish Twins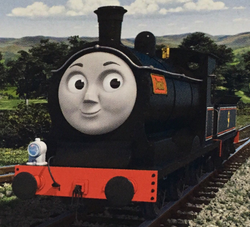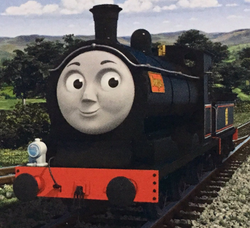 Donald and Douglas
Numbers: 9 and 10, formerly 57646 and 57647
Built: 1899
Class: CR 812 0-6-0
Designer: John F. McIntosh
Builder: St. Rollox Works
Configurations: 0-6-0
Arrived on Sodor: 1959
Donald and Douglas (originally known by their numbers, 57646 and 57647, respectively) are twin Scottish mixed-traffic engines.
Bio
Railway Series
Donald and Douglas arrived in 1959 to help out with goods after it was found David's overhaul was going to take more than a few months. Originally, the Fat Controller set for only 57646 (Donald) but 57647 (Douglas) was smart knowing he had no chances if he stayed on the Other Railway. They caused a series a mishaps which included misplacing an important coach, crashing into a signal box, and crushing the Spiteful Brake Van. They did however, work well in the snow and rescued Henry who been stuck in a snow drift. The engines made Percy their 'deputation' to convince the Fat Controller to allow Donald and Douglas to stay in fear they would be scrapped if they returned to the Other Railway. The Fat Controller eventually allowed them to stay by offering them a new coat of paint
They now work on either the Little Western, the Main Line, and occasionally help Edward and BoCo on the Wellsworth-Brendam Branch Line.
Persona
Donald and Douglas are cheery, friendly, and helpful. They like jokes too. They do however get the job done in the end and are a valuable assit to the Fat Controller's railway.
Livery
Donald and Douglas are painted BR black.
Appearances
They will appear in the eighth season.
Specials:
Trivia
Their original numbers are an in-joke; the BR numbers only went up to 57645.
Gallery
Donald
Douglas
Community content is available under
CC-BY-SA
unless otherwise noted.