"Do it right!"
— Fergus, Bill, Ben and Fergus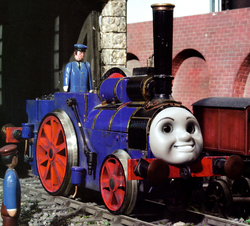 Fergus
Class: Aveling and Porter T9
Designer: Aveling and Porter
Builder: Aveling and Porter
Built

: 1926

Configuration: 2-2-0WT
Fergus is a railway traction engine.
Bio
Fergus is a traction engine, who was called the "Pride of the Cement Works." When Diesel came to help out, he was tricked into going to the Smelter's Yard. However, he escaped and hid on an old track until Thomas came looking for him. Now, he works happily at the Cement Works. He was later helped fix the Lighthouse after a power surge from a thunderstorm, and helped save a ship from hitting the rocks, all thanks to Salty's clever thinking.
Basis
Fergus is based on an Aveling and Porter 19.
Livery
Fergus is painted navy with gold boiler bands and red wheels.
Appearances
He will appear in the sixth season.
Specials: