Obi-Wan Finale - The Loop
Play Sound
"Being brave isn't the same as feeling scared. Being brave is about what you do even if you do feel scared."
— Gator, Tale of the Brave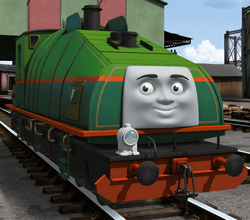 Gator
Builder: Sentinel Wagons Works Ltd.
Configuration: 0-6-0+0-6-0T
Built: 1934
Gerald, better known by his nickname Gator, is a tank engine who runs in the mountains.
Bio
Although Gator's real name is Gerald, he is known as Gator due to his resemblance to an alligator. He works high up in the mountains and is incredibly brave. He longs to travel and is excited about going to the sea.
Persona
Gator is incredibly brave and longs to travel, while retaining a calm, grounded personality. He longs to travel out at sea and works up in the high mountains, but also has a slight fear of heights.
Basis
Gator is based on a Colombian Steam Motor locomotive built by Sentinel Wagons Works Ltd.
Livery
Gator is painted two-tone green with red lining.
Appearances
Specials:
He may appear in future stories.
Trivia
Gator shares the same whistle sound as Charlie but in a deeper pitch.
Despite the fact that his real name is "Gerald" and that "Gator" is only a nickname, his nameplate still reads "Gator".