"She may be small and compact, but this little tank engine can match the boys pound for pound!"
— The Announcer, Meet the Contenders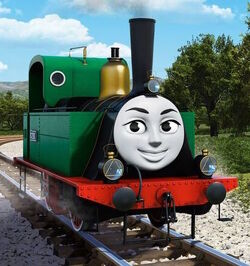 Gina
Class: FNM 200
Builder: Couillet
Built: 1883
Configuration: 0-4-0T
Gina is an Italian tank engine who participates in the Great Railway Show. She participates in the Shunting Challenge.
Bio
Gina, along with the other international engines, accidentally arrived on Sodor when the ferry they were traveling on stopped at Sodor instead of the Mainland. After the engines realised their mistake, Gina ordered the engines back onto the ship. She was also the first to notice that one of the international engines, Ashima, was missing from the ship.
Gina competed in the Shunting Challenge alongside Ivan, Raul, Thomas and Ashima. During the competition, her flatbeds were derailed by Vinnie when he was chasing Philip through the yard.
Personality
Sweet and stylish, Gina can match the boys pound for pound when it comes to shunting freight in the yard. All the way from Italy, Gina will be turning a few heads when she appears in The Great Railway Show.
Basis
Gina is based on the Ferrovie Nord Milano 200 0-4-0T. 2 of these are preserved.
Livery
Gina is painted green with a black boiler, gold lining, and red wheels. She has her name written in white lettering on her nameplate.
Appearances
Specials:
Promotional videos:
Trivia
Gina's whistle is Rheneas' at a high pitch.