"I'm not Mr. Coffee Pot! My name is Glynn!"
— Glynn, The Adventure Begins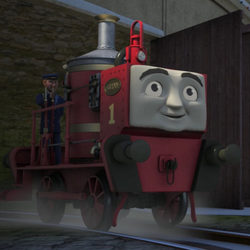 Glynn
Number: 1
Designer: Sir Topham Hatt
Built: Between 1905 and 1908
Configuration: 0-4-0VBT
Glynn is an old vertical boiler engine, known as a "Coffee Pot".
Bio
Glynn was the original No. 1 engine on the North Western Railway and used to work on the Thomas' Branch Line with the other "coffee pots". By the time Thomas had arrived, Glynn was the only remaining one and he was left rusting on a siding at Ffarquhar station, with ivy growing all over him. After meeting with and realising Thomas was the new No. 1, Glynn asked him to look after the branch line and wear the number with pride.
Many years later, Glynn was restored for the Christmas holidays, and took part in a race against Stephen.
Basis
Although Glynn is meant to be one of the "Coffee Pots" built by The Fat Controller, he shares his design with the Dorking Greystone vertical boiler locomotive of 1871 at the Beamish Museum.
Livery
Glynn is painted red all over and has gold lining. He has a grey steam space cap and funnel with a brass funnel top. He has brass control caps and a brass nameplate. His number is in yellow right under his nameplate. Because he was left sitting in a siding for a while, he was covered with rust.
Appearances
Trivia
Sam Wilkinson was responsible for the idea to include Glynn, thus making the Coffee Pot engines into official canon in the television series.