Obi-Wan Finale - The Loop
Play Sound
"The crowd are going wild! He's won them over before the race has even started!"
— The Announcer, Meet the Contenders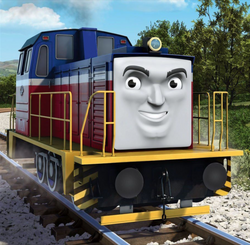 Ivan
Built: Sometime after 1960
Builder: Murom Locomotive Plant
Configuration: 0-6-0
Ivan is a Russian diesel shunter. He participates in the Great Railway Show as one of the Shunting Competition contestants.
Bio
Ivan participated in the Great Railway Show at least twice during his career, and seemingly finished second away from setting a new world record once. Once when he again participated in the shunting challenge, he did so alongside Raul, Gina, Ashima and Thomas, but ended up losing the event after championships were awarded to the latter two. Ivan returned home after the show was over.
Persona
Ivan of Russia may look mean, but he is one of the most charismatic characters to be found on the railway. He is a real comedian, who will put a smile on everyone's face.
Basis
Ivan is based on a TGM23 class diesel shunter.
Livery
Ivan is painted red and blue with white lining. His running board is painted yellow, and he carries his name on the sides of his cab in white lettering. His wheels are painted black with white rims and blue counterweights.
Appearances
Specials:
Promotional videos:
Trivia
The colours of the Russian flag, of which Ivan is painted in, are stacked differently as to how they look on the actual flag; the white and blue are swapped around. This was most likely done for aesthetic reasons.
Ivan is the only diesel engine to compete in the Great Railway Show.
His horn is the same sound as Butch's.