"Road or rail, what do I care?"
— Jock, Jock the New Engine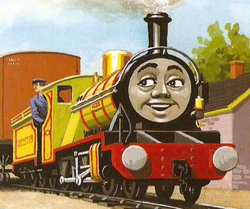 Jock
Designer: Ivan Farrier
Builder: Arlesburgh Works
Built: 1976
Gauge: 15 inch
Configuration: 2-6-2
Jock is the newest steam engine on the Arlesdale Railway, and the strongest.
Bio
After Rex's steampipe began leaking one day and Frank had to take his train, the Small Controller began thinking they needed another engine and so he arranged for Jock to be built. When Jock first came out for testing he was still unnamed. Jock's paint colour reminded Douglas of his days on the Highland Railway and suggested the name "Jock" for the new engine. The Small Controller and Jock liked the name so it stuck. Later, he pulled a doubleheader with Mike.
Persona
Jock was very cocky when he was first built, as a result of being rather strong, but soon learned the value of teamwork when Mike's injector failed and he had to pull Mike and his train single-handedly.
Livery
Jock is painted in a Highland Railway chartreuse yellow livery with red lining. He has a brass dome, red nameplates with yellow writing mounted each side of his boiler and "Arlesdale" written on his tender in yellow.
Appearances
He is likely to appear in the eighth season.
Specials: