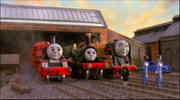 Knapford Sheds was introduced in the seventh season of Thomas and Friends. Knapford Sheds is an eight-road shed situated somewhere in Knapford Yards. Emily, Arthur, Salty, Harvey, and Murdoch were first based here. Spencer also stayed here on his first visit. The shed also consists of a repair shed and a foundry, where Bulgy was repaired and converted into a Produce Stand On Wheels. Thomas had to stay at Knapford Sheds with Emily after Tidmouth Sheds was demolished to make way for the new sheds, in Calling All Engines!.
This was also where the Repair Yard was located until it moved to Tidmouth.
In Thomas' Sodor Adventures, Salty, Harvey, Arthur, Murdoch, Neville, Hank and Dave generally sleep here. Toby, Emily and Rosie have slept here on occasion as well.