Jurassic World: Dominion Dominates Fandom Wikis - The Loop
Play Sound
"You're a gallant little engine!"
— The Yard Manager, Gallant Old Engine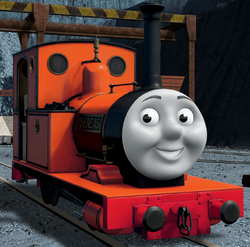 Rheneas
Number

: SR 2

Builder: Fletcher, Jennings and Co.
Built: 1865
Gauge: 2ft 3in
Configuration: 0-4-0WT
Arrived on Sodor: 1865
Rheneas is the Skarloey Railway's second engine.
Bio
Rheneas was built by Fletcher, Jennings, and Co. at Whitehaven and arrived on the Skarloey Railway sometime around 1866.
Unlike Skarloey, Rheneas was stern and thoughtful and fell out with Skarloey after the latter called him a "stick-in-the-mud" following an argument over cabs. The two reconciled after Rheneas saved Skarloey from a landslide.
Rheneas literally saved the railway by keeping service through a very lean period in the late 1940s. By 1950, Skarloey was in need of repairs, leaving Rheneas to run the line. He managed to pull a full train home one rainy day despite jammed valve gear and was rewarded with an overhaul. His overhaul took place in 1961 and was returned to the Skarloey Railway soon after.
Persona
Rheneas has been called a "gallant old engine" before and deserves such a title. Rheneas is highly determined, brave, courageous, and long-time friend of Skarloey. He is a tough, committed worker despite his age and takes great responsibility in his work. He is keen to keep his friends smiling and, although he is a level-headed engine, he can be a bit of an adventurer too. Though he may often try to struggle on alone, Rheneas knows when it is time to call on the help of his friends. Nevertheless, Rheneas is always highly dedicated to the task at hand.
Livery
Rheneas is painted vermilion with gold and black lining.
Appearances
Season 1 - Rocky Bridges, The Refreshment Lady's New Tea Shop (cameo), Rheneas' Roller Coaster, Dashing Duncan (cameo), The Grand Opening Arrives (cameo), and Rusty and the Bridge Repairs (cameo)
Season 2 - Frozen Owen, Special Brakes, Stories of the Sea, Rheneas' Risky Ride,

Trouble on the Line

,

Scottish Engines

,

Fred Goes on Strike

, and Flying Scotsman Departs (cameo)
Season 3 -

The Fastest Engine in the Hills

,

Skarloey to the Rescue

(cameo),

Fearless Fred

,

Duncan's Discovery

, and Bertram and the Christmas Party
Season 4 -

Serious Samson

,

It's Not Easy Being Green

(cameo),

A Surprise for Bertram

,

Duke and Smudger's Past Adventures

(cameo),

Dusty Rusty

(does not speak), and

Yellow Rheneas

Season 5 -

Thumper and the Avalanche

,

Peter Sam and the Prickly Problem

(cameo), and

Smoke Signals

Season 6 -

The New Diesel Fuel

,

Fred and Colin

(cameo), and

Cold for Christmas

Season 8 - Henry Gets the Coaches, Bradford Returns (cameo), and Saving Skarloey
He will appear in the seventh season.
Specials:
Trivia
His name is Sudric for "Divided waterfall".