"I love it when a plan comes together."
— Rocky, Rocky Rescue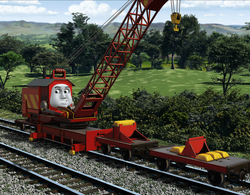 Rocky
Rocky is a large breakdown crane.
Bio
When Rocky first came to Sodor, Edward and Gordon thought he couldn't be useful because he could not move by himself. However, he proved himself reliable after Edward's load of pipes spilt onto the tracks and Gordon accidently rammed into him, and Harvey wasn't able to clear the mess by himself. So, Rocky lifted all the pipes off the track and lifted Gordon back onto the rails. Since then, all the engines have had their respect for Rocky. He resides at the Sodor Search and Rescue Centre.
Persona
Rocky likes to lift heavy objects such as engines, coaches, and trucks. He is a friendly crane and helps the engines when there is an accident.
Livery
Rocky is painted a dull red colour with yellow hazard stripes.
Appearances
Specials:
Trivia
Rocky has a much taller cab than his basis, in order to accommodate a face.
Community content is available under
CC-BY-SA
unless otherwise noted.