"Branch line? I think that's where I'm meant to be working."
"Ahh, Ryan, my new tank engine, you're here."
"New tank engine? But.."
"Come on Ryan; lets get started."
— Ryan, Sir Topham Hatt and Thomas, Sodor's Legend of the Lost Treasure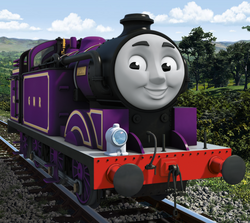 Ryan
Number: 1014
Class: GNR Class N2
Designer: Sir Nigel Gresley
Builder: Doncaster Locomotive Works
Built: Sometime between 1920 and 1929
Configuration: 0-6-2T
Ryan is a purple tank engine.
Bio
Ryan was brought to help run Thomas' Branch Line while Thomas was sent to help out at the construction yard during the building of the Harwick Branch Line. After Thomas fell into a deep cavern, Ryan was once again brought to do his job while he was being repaired. After taking bad coal, he accidentally set fire to some dynamite, which Thomas managed to dispose of quickly. He later helped stop The Pirate Ship, which was being used by Sailor John to escape with the treasure.
He now runs the new branch line as the goods engine, with Daisy as the passenger engine.
Persona
Ryan is an affable engine, who goes out of his way to be kind and is concerned when he sees others in trouble. Ryan would like to be a hero, but he's not actually as brave as he wishes he was and has a tendency to panic a little in the face of danger. It doesn't put him off trying though. Ryan is direct and sincere, but he has a good sense of humour too and is not above making a joke at his own expense.
Livery
Ryan is painted purple with white and gold lining. He has the letters "GNR" painted on his tanks in gold. The number "1014" is painted on his bunker in the same colour.
Appearances
Season 6 -

The New Diesel Fuel

,

Windy Skiff

,

Ryan and the Snow

,

James and the Royal Train

(cameo), and

Edward and the Express

(cameo)
Season 7 -

Salty and the Small Engines

and

Ryan and the Trucks
Specials: